2022 BCSLA Annual Conference & Showcase of Products and Services
Registration Open - Click here!
The BCSLA typically organizes many professional development events but COVID has sidelined that for the past two years. We are looking forward to starting up again.  Please join us from October 13-15, 2022 at the Coast Coal Harbour Hotel in Vancouver.  The 2022 conference program theme will be "Back to the Garden". The BCSLA Continuing Education Committee is currently finalizing the program. See below for a preliminary Speakers List and the PDF will be published soon.
October 13, 2022
4:30 PM
Clive Justice Book Awards for Newly Qualified Landscape Architects 
Due to the pandemic, the New Member Book Awards have been on hold. We will celebrate those members who became registered in 2019, 2020 and 2021.  The Awards have been renamed the Clive Justice Book Awards to Newly Qualified Landscape Architects in 2022.  The late Clive Justice, MBCSLA#003, initiated this program many years ago by presenting a book to each new member at his own expense. BCSLA is proud to continue the tradition in his name. We are delighted to report that Clive's son, Douglas Justice, Associate Director UBC Botanical Gardens and BCSLA Honorary Member, will be present to share memories of his Father.  A meet and greet will follow the presentation.  
6:00 PM
BCSLA and the Professional Governance Act
 Paul Craven, Superintendent of Professional Governance, will be speaking in person about the Professional Governance Act. The Office of the Superintendent of Professional Governance (OSPG) is the centre of provincial expertise for professional governance of regulatory bodies outside the health sector. The Superintendent is the head of the OSPG, and with a focus on public interest, is authorized by the Professional Governance Act (PGA) to carry out various functions including overseeing the governance of regulatory bodies under the PGA, conducting research and promoting best practices, administering the Professional Governance Act including enforcement, and publishing information that is related to professional governance and deemed in the public interest. We recommend that all BCSLA Members and Associates attend the presentation.  Volunteers are working on logistics to stream the event. 
7:00 pm - Green Theory Meet & Greet Reception
Following Paul Craven's presentation stay to enjoy a snack and the no-host bar.  You will have the opportunity to see colleagues and friends following two years of lockdowns and restrictions.  Say hello to Paul Craven. Meet some of our New Members. Be sure to carpool with a designated drive, take public transit or share a ride.  This event is geneously sponsored by Green Theory.
The 2022 in-person BCSLA Conference and Showcase will continue at the same venue on October 14-15.  These events are subject to change due to public health orders.
Friday, October 14, 2022: 
5:00 pm  BCSLA Awards Presentation
On behalf of the BCSLA Board of Directors and Nominating Committee, we are pleased to honour some of our best citizens.  The Welcome reception will celebrate the winners in style.  
6:00 pm:  T. Moscone Bros. Landscaping Ltd. Welcome Reception
You will have the opportunity to see colleagues and friends while enjoying a beverage and gourmet canapes.  Be sure to congratule the award winners including Brian Minter, BCSLA Honorary Member, Dr. Patrick Mooney, New Life Member, Ron Rule, New Life Member.  Also being recognized are Justin-Benjamin Taylor and Divine Ndemeye Saba Farmand, Somaye Hooshmand, Jacqueline Lowe, Celia Winters and Pearl Yip. Be sure to carpool with a designated drive, take public transit or share a ride.
OCTOBER 14 to 15, 2022
This program is preliminary only. In the interests of ensuring the highest quality program content, session topics, scheduled times, titles, meeting rooms and speakers/presenters are subject to confirmation or change. Check www.bcsla.org for updates.
Debra Guenther, FASLA, MBCSLA, is the Keynote Speaker,  as a partner and landscape architect at Mithun, Deb has built a team that brings exceptional quality, critical thinking and award-winning design to projects. Deb is a regular contributor to conversations on equity, resilience and climate change at venues such as Greenbuild, Living Futures, and the Urban Land Institute. Nationally recognized for her leadership on green infrastructure and ecosystem service issues, she was awarded the American Society of Landscape Architect's Presidents Medal in 2010.
Betty Lepps,  Vancouver Park Board Director of Urban Relationships, will lead a fascinating session on projects she has been working on.  Lepps leads the Park Board's work on responding to the needs of people experiencing homelessness, helping to fulfill the City's humanitarian responsibilities to those sleeping or sheltering in parks. As Director, Urban Relationships, Lepps will also work with partners to help improve the overall safety of all people using Vancouver parks. She has worked with Indigenous communities across Canada and the USA and her work on driving systemic change for vulnerable populations has been highly lauded at municipal, ministerial, community, and national level. She was also instrumental in developing the first Indigenous restorative justice court in Calgary.
Confirmed Speakers Include:
​​​​​​​Showcase of Products & Services and Program Support
We invite you to join us for the 2022 Showcase or to participate as a Program Sponsor to increase your company profile and remind our design professionals about quality services, new and innovative products, and leading-edge technology that can be used by landscape architects in their offices and projects.  The information package was available to BCSLA Affiliates and former exhibitors until September 20, 2022.  We are pleased to note that the SHOWCASE EXHIBITOR & SPONSOR INFORMATION PACKAGE IS NOW OPEN TO EVERYONE!
Hotel Accommodation
Are you joining us from out of the Lower Mainland?  Reserve your hotel room at the Coast Coal Harbour Hotel by September 23, 2022 to secure the BCSLA Group rate pending availability.  Call 604.697.0202.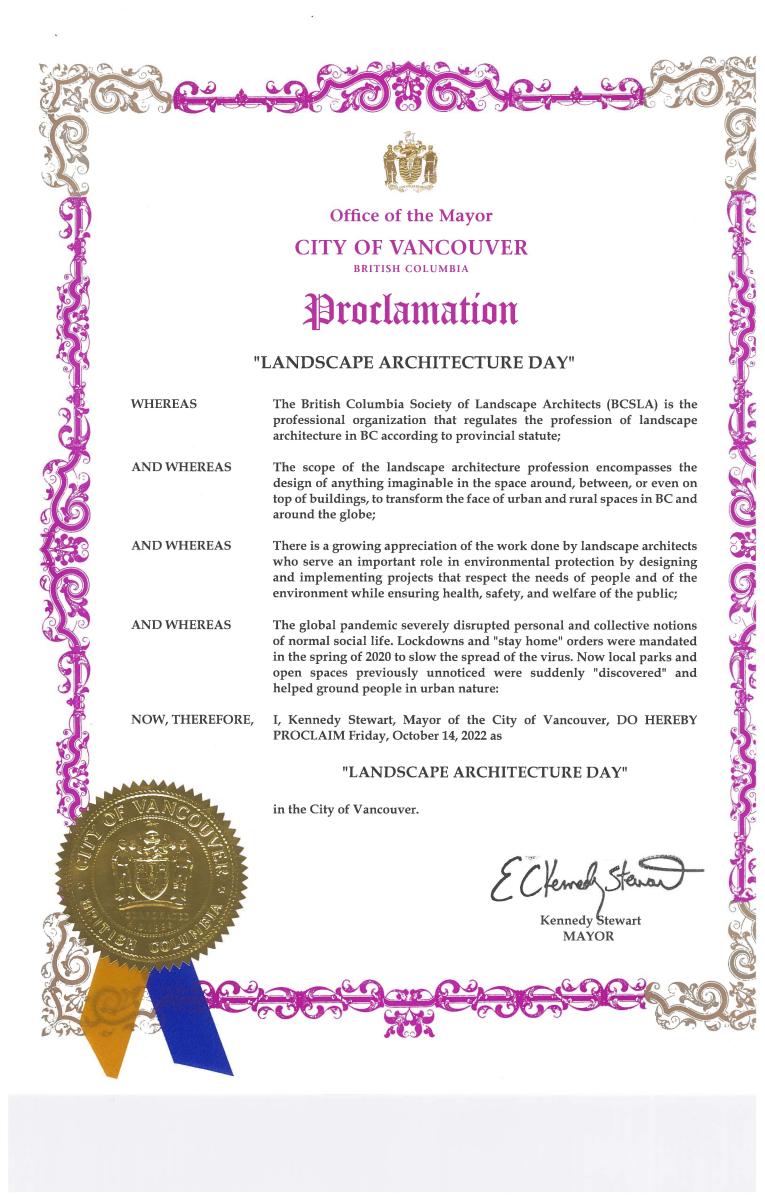 Note that the Conference / Continuing Education Committee is well-prepared to shift the conference to an online virtual platform if required by public health orders.  As we return to in-person events, the health and safety of our conference speakers, attendees,  and staff are of the utmost importance. The BCSLA will continue to follow the latest government recommendations to provide you with the best level of protection at the conference this fall.
More details soon.
BCSLA ANNUAL GENERAL MEETING
Thank you to BCSLA Members and Associates who attended the 2022 BCSLA Annual General Meeting on June 25, 2022.   Congratulations to the 2022/2023 BCSLA Board of Directors.  Thank you to everyone who allowed their name to stand. Thank you to the outgoing Board of Directors volunteers who completed an extended term on the Board. We are also very appreciative of all former Board Members upon whose shoulders we stand!
Download the AGM Report Package (Revised). The revisions were timing errors on the Agenda and two minor housekeeping corrections. A formatting issue in the BCSLA Intern and Associate Representative's Report was corrected. Contact the BCSLA office for details.
Archive AGM Reports (PDF)
2020 - No Meeting