SITELINES Magazine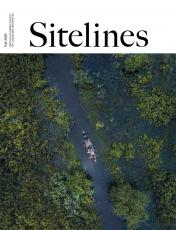 Sitelines - Fall 2020 (PDF)
Welcome to the Resilient Futures issue
Resilience is the capacity to get back to normal after facing challenge, adversity, or trauma. But returning to "normal" is no longer feasible, or even desirable. As the global pandemic shocked the world and thrust us into a new and unfamiliar way of operating, we adapted. This new normal has resulted in great challenge, adversity, trauma and loss for individuals, communities and the world, but it has also given us a chance to rethink the way we work, and how it affects those very same individuals, communities and the world we design.
Discrimination and racism, impacts of climate change, and the limitations on public space are far from new topics in our field, but, during this pandemic, there is a heightened awareness and distinct sense of urgency attached. Issues such as over-policing of Black and Indigenous people across the continent have gained worldwide focus due to the death of George Floyd and countless other people of colour, compelling widespread conversations, storytelling, research and activism against the systemic racism ingrained in western society. Locally, acts of hostility against Asian Canadians amid the pandemic have highlighted the need for increased action against xenophobia and systemic racism and for recognition and respect of Asian-Canadian heritage.
Sometimes a challenging, adversarial or traumatic event or experience acts as a catalyst to rebuild and reimagine a new, enhanced normal. As lifelong learners who regularly invent new frameworks as a part of our profession, we have an opportunity to utilize our skills to confront the issues that have risen to the surface over the span of this year. We are landscape architects, designers, planners, educators, tradespeople, and students, shapers of landscapes, public space, policy and minds. Not only are we well-positioned to address these issues, we have a responsibility to use our privilege and power to address systemic racism in the design and management of public and private spaces.
Thank you and we look forward to continuing to evolve Sitelines in collaboration with our readership and the BCSLA membership.   Also, thanks to the advertisers whose support helps make this publication possible.
Sincerely,
Sitelines Editorial Advisory Board (SEAB)
 The next edition - Happiness - has been scheduled for circulation in April 2021. Watch this space for details
. 
> 2021 BCSLA Sitelines Media Kit
> View archived editions of SITELINES Magazine