SITELINES Magazine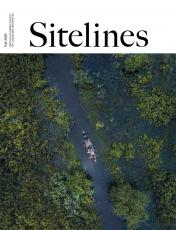 Sitelines - Fall 2020
Welcome to the Resilient Futures issue
Resilience is the capacity to get back to normal after facing challenge, adversity, or trauma. But returning to "normal" is no longer feasible, or even desirable. As the global pandemic shocked the world and thrust us into a new and unfamiliar way of operating, we adapted. This new normal has resulted in great challenge, adversity, trauma and loss for individuals, communities and the world, but it has also given us a chance to rethink the way we work, and how it affects those very same individuals, communities and the world we design.
Sitelines magazine, the voice of landscape architects practicing in BC, has undergone a transformation to reflect the shifting and expanding profession of landscape architecture. The aspiration of the Sitelines Editorial Advisory Board is for Sitelines to be a platform for landscape architects and allied professionals to share information, engage in open dialogue about current issues, and evolve alongside the profession in order to maintain and increase our relevance in the rapidly changing world around us. Read the digital issue here!
Thank you and we look forward to continuing to evolve Sitelines in collaboration with our readership and the BCSLA membership.   Also, thanks to the advertisers whose support helps make this publication possible.
Sincerely,
Sitelines Editorial Advisory Board (SEAB)
 The next edition has been scheduled for mail out in February 2021. Watch this space for details
. 
> View archived editions of SITELINES Magazine